Dental Fillings and Restorations in Sydney CBD
Sometimes it is inevitable due to our lifestyle or diet that we may need to have fillings to prevent further breakdown of our teeth. At Sydney CBD Dentistry we offer aesthetic white fillings to hide any work that you might need.
These highly durable and cosmetically pleasing fillings will ensure that you keep smiling.
What are the different materials to use for fillings?
The location and the severity of the decay, age of the patient, lifestyle and anatomical factors, the advice of the dentist, all determine the suitability of filling material used to restore the decayed section of the tooth.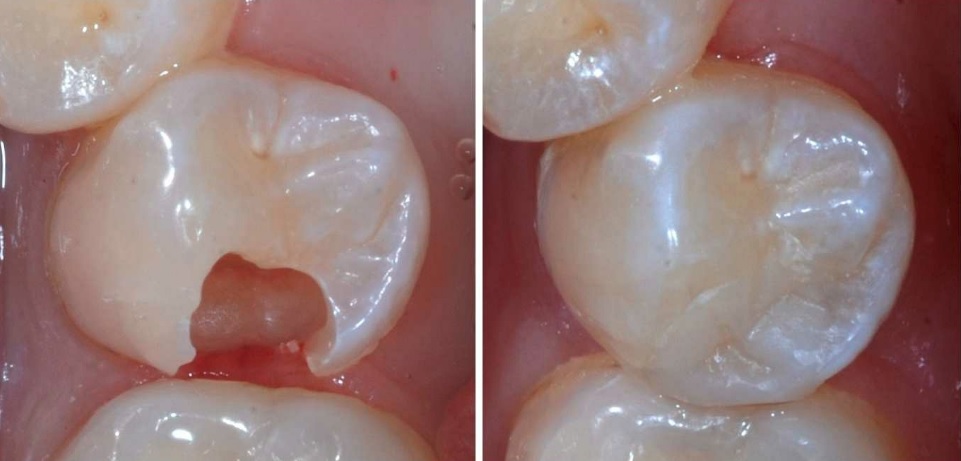 Our tooth-coloured restorations are placed following the most up-to-date techniques and materials. They are aesthetic and durable. There are three types of dental materials that we utilise to suit best to your dental cavities.
Small cavities: Glass ionomer cement is a fluoride releasing material which will aid in the reduction of risk of recurrent decay in the cavity. This material is often chosen for small surface caries to prevent further propagation of the carious area and assist in repair of the tooth structure. If it is wearing down or chipped, new materials can often be applied to the tooth without the need for further cutting into the tooth.
All sizes of cavities: Composite resin is the most standard tooth-coloured restorative material used in the world. It is suitable to most sizes of cavities.
Larger sized cavities: Composite/Porcelain onlay may be the treatment of choice in larger cavities. This type of restoration is made outside of your mouth, and then bonded into the cavity. The most advanced generation of composite resin and porcelain restoration combines beauty and strength into one, and offers superior durability than that of a traditional composite resin dental filling.
What are the right ways to take care of tooth fillings?
For the fillings to stay in place, anyone who has had fillings should practice good oral hygiene, daily brushing after every meal, daily flossing, and rinsing with antiseptic mouthwash at least once daily. When you notice that the filling is cracked, has a sharp edge, or a piece of the tooth is missing, it is crucial that you call the dentist right away.
What are some after effects of having dental fillings?
Pain and sensitivity are common issues after a dental filling is done, common irritants may be cool air, sweet and cold foods, pressure on the tooth, etc. These issues will resolve on their own after two to four weeks, and there is no need for pain reliever. Should you experience pain or sensitivity for a period longer than four weeks after your restoration treatment, you should consult your dentist.
One other problem is deteriorating fillings which is a result of constant pressure caused by chewing, clenching, or grinding. Only the dentist will be able to determine if the filling is deteriorating; that is why it is necessary to see your dentist for a check up biannually.
Directions from Chinese Garden of friendship to Sydney CBD Dentistry takes about 13 minute drive. Head north on Harbour St toward Liverpool St and use the middle lane to stay on Harbour St. Turn right onto Day St then turn right onto Bathurst St. Use the left 2 lanes to turn left onto Elizabeth St and turn left onto Hunter St then turn left onto Pitt St where our dentistry is located on the left.