Facebook Posts
---
Avail Our Special Offers And Save!
No Gap New Patient Special or $175 without health fund – Comprehensive Exam, Scale and Clean including X-rays:
No Gap (only health fund rebate is claimed and must have dental cover) 1st Visit comprehensive Examination, Consultation, Scale and Clean
and X-rays (Panoramic OPG X-ray and Bite Wing X-rays if necessary) for New Patients with Private Health Insurance.
We also have a 52% discount offer to $175 for the same treatment plan for patients with no health insurance plans.
Save up to 30% on Dental Crowns – From only $1,190. Our procedures are completed in a single visit and comes with a 5 year limited warranty
CADCAM Emax crowns from $1,190 each.
Multiple Discounts at discretion of our dentists.
*5 years limited warranty key conditions: Patient has to retain their receipt and have twice a year routine 6 monthly dental check-up and cleans at any of our practices (Sydney CBD; North Sydney; Hornsby; North Ryde/Macquarie Park) during the warranty period. The warranty will cover for a free replacement of the same Dental Crown restoration if it failed due to mechanical failures only, such as de-bonds or fractures. The warranty however, does not extend to accident/trauma related failures, gum diseases, dental decays or a need for root canal therapy otherwise recommended by the treating dentist prior to the commencement of treatment.
Click here to view details of this special –> Offer subjects to change without notice
Save on Dental Veneers – Composite Veneers $550 each and Porcelain Veneers from $1,100 each
Composite Veneers $550 each
Porcelain Veneers from $1,100 each
Pay upfront and get a 10% DISCOUNT: Composite Veneers at $495 each and Porcelain Veneers at $990 each.
Potential for free nightguard to protect your new veneers with a package of 8 or more Porcelain Veneers (valued at $595)
Click here to view details of this special –> Offer subjects to change without notice
Invisalign Specials – Sydney CBD Dentistry is a Platinum Provider
Affordable Invisalign Treatments from $3500
Invisalign i7 for $3500 ; including take- home whitening included valued at $495 + retainers
Invisalign Lite for $5990
Invisalign full for $6990
Add Acceledent to improve and accelerate the straightening process for $1200; completion of treatment as quick as 4 months!
Click here to view details of this special –> Offer subjects to change without notice
Zoom! Whitening Specials
Zoom! Whitening take home $349
Zoom! In-chair teeth whitening, Now only $450 with our Hygienist.
Zoom! In-chair teeth whitening + mini take home whitening kit: Only $688
Samples Of Some Of Our Case Pictures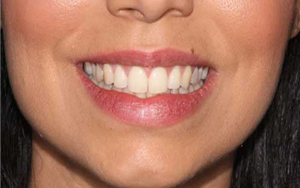 Pre-op: The patient has already an aesthetic smile. Her concerns were related to alignment and differences in colour of teeth, after already going through teeth whitening a few times.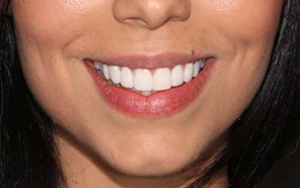 Post-op: 8 Veneers were placed to level the smile and enhance the shade of the teeth. Some patients who wish for more translucency can request this at their consultation appointment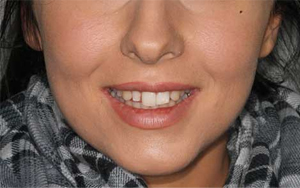 Pre-op: The patient has misaligned upper jaw, with missing teeth and mid-line shift, as well as discoloration of the side teeth.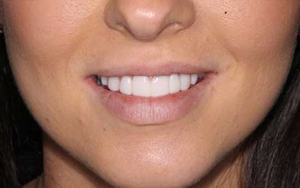 Post-op: Correction of the aesthetic problems with dental bridge and gum grafting. Alternative treatment plan of orthodontic treatment followed by implants and veneers were rejected due to time constraint. All options will be discussed at the time of your consultation.
The Sydney CBD Dentistry Difference:
We use state of the art new dental equipment and materials, and modern design;
 Dentists at Sydney CBD Dentistry are highly trained, very experienced, Professional, dedicated, have undertake extensive professional development and genuinely passion about dentistry and our patient's dental health and wellbeing;
 We provide highest quality care and are generous with our time: Typically 45 minutes – 1 hour appointments for all new patients;
 Friendly, Professional and Caring staff;
 On the spot Instant Claim from Most Health Funds;
 After your appointment with us, we provide written quotes for any future treatments you may require, if any
Call us today at Sydney CBD (8090 1105); North Sydney (8090 1108), Chatswood (8090 1106); Hornsby (8090 1100); North Ryde/Macquarie Park (8090 1102). If we are unable to answer your call, please leave a message and we will respond to you within the next 1-2 business hours. Alternatively you can e-mail us at info@sydneycbddentistry.com.au; info@northsydneydentistry.com.au; info@chatswoodcbddental.com.au; info@hornsbydentist.com.au; or info@northrydedentistry.com.au
Driving directions towards Sydney CBD Dentistry from The Rocks only takes about 6 minute drive. Head south on George St toward Globe St and turn left onto Blue Anchor Ln. Continue onto Rugby Pl then turn right onto Pitt St where you will find us located on the left side.